Celebrate Chinese New Year with us!
预祝庆典与节日展览开幕酒会: 2月21日, 下午5點半
庆典時間:2月23/24日,上午11點至下午4點
地點:舊金山文化中心, 堅尼街750號,希爾頓酒店3樓
免費入場
Celebration Pre-party and New Year Exhibit reception: 2/21/08 5:30 PM
Celebration Date: Feb 23 – 24, from 11AM to 4PM
Location: Chinese Culture Center, 750 Kearny Street 3rd Floor (inside the Hilton Hotel)
Admission: Free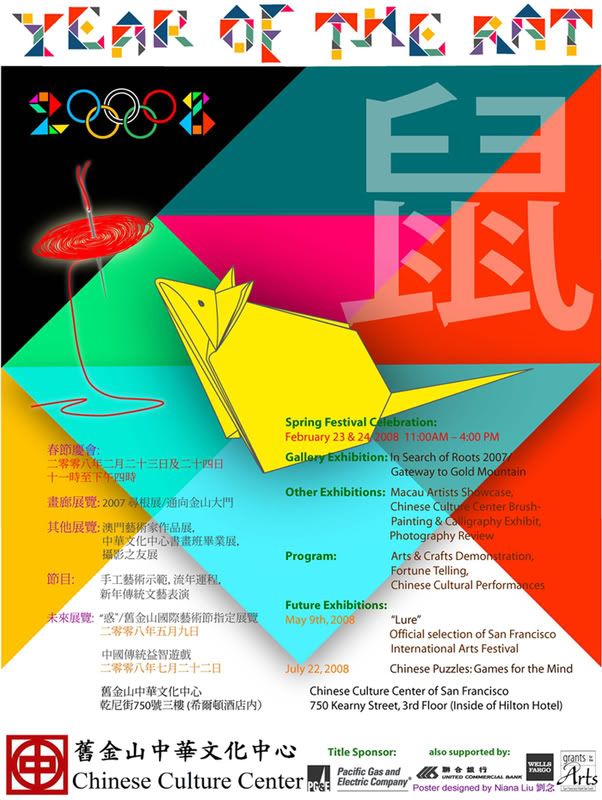 Great fun for the entire family! Exhibitions, crafts, demonstrations, performances of lion dances, martial arts, folk and classical dances and much more.
Come and bring your friends and family!
New Year Traditional Performance
Arts & Crafts Demonstration
Fortune Telling by Y.C. Sun
Gallery Exhibition: In Search of Roots 2007/Angel Island Immigration Station: Gateway to Gold Mountain
New Year Exhibition: Chinese Culture Center Brush Painting & Calligraphy Class Exhibit, Macau Artists Showcase, Photography Review
新年傳統文藝表演
手工藝術示範 流年運程-孫亦徵 畫廊展覽: 2007 尋根展/通向金山
节日展览: 澳門藝術家作品展,中華文化中心書畫班师生展,攝影之友展
現場還有手工藝品,舞獅,中國功夫,及傳統舞蹈等等各項表演
歡迎大家偕同親朋好友一起來參加.