2009 Membership/Christmas/Winter Solstice Gathering: CCC Pre-holiday Sale & Performances
中華文化中心幫您裝點圣誕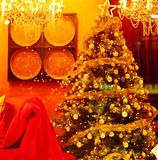 The Chinese Culture Center welcomes our members, patrons and everyone that expects a unique Christmas to join a pre-holiday sale, including newly arrived Yixing pots, Chinese puzzle games with thousands of years history, unique Chinese Christmas decoration, and Chinese books. You will also enjoy special cultural performances and holiday celebration, featuring the Star Valley Children's Choir, S.F. Guzheng Music Society and the Center's Taichi class. There will also be a raffle for great prizes at the Gallery Shop.
Click here to RSVP.
中華文化中心熱情邀請各位朋友來參加我們為圣誕精心籌備的節前大賣場活動,並共同欣賞來自美聲兒童合唱團、舊金山古箏樂團以及中心太極班學生的精彩演出。屆時中心畫廊還將推出抽獎環節。活動免費,敬請光臨!
Time: Saturday, December 12, 2009 11am – 1pm
Sale starts at 11; performances start at 12.
Location: 3rd floor, Chinese Culture Center (inside Hilton)
Admission: FREE