September 7, 2009
CHROMATIC CONSTRUCTIONS: Contemporary Fiber Art by Dora Hsiung
Opening Reception: 9.11.2009 6:00 PM – 7:30 PM
Exhibition Date: 9.12.2009 – 1.10.2010
Workshop: 9.12.2009 at 2 pm
The art of Dora Hsiung at initial impact is straightforward and unabashedly decorative, yet upon analysis it proves to contain subtleties to engage the eye and the mind. Her fabric sculptures look – and are – mathematically organized. Like a well-constructed fugue, a Hsiung work alters its tone and its counterpoint subtly as it moves from side to side, from top to bottom. Now and then there is a dissonant thread, which serves to accent the harmony of the whole.
"Don't miss: 'Chromatic Constructions'" – Mary Eisenhart, Thursday, October 22, 2009, 96 Hours
色‧立體:熊李南琛的當代纖維藝術 
2009舊金山中華文化中心「鮮銳」展系列
2009年9月12日至2010年1月10日
熊李南琛個展是舊金山中華文化中心所推出的第二屆「鮮銳」系列,同時也是第一次以纖維為媒材的展覽,
「鮮銳」是舊金山中華文化中心的藝術家個展系列,2008年首屆「鮮銳」展系列為裝置藝術家劉北立,該系列強調「新鮮」、「敏銳」視野,展出最新或未曾發表的創作,推出卓越但尚未被廣泛認識的華人藝術家,將提供觀者對當代中華文化的全新視野。2008 – 2010「鮮銳」由Phyllis C. Wattis基金會資助。
The Xian Rui (Fresh and Sharp) exhibition series for 2008-2010 is funded by the Phyllis C. Wattis Foundation. Other support provided by Grants for the Arts/San Francisco Hotel Tax Fund, the members of Chinese Culture Center and individual supporters. 2009 Exhibition is co-sponsored by Hilton Hotel of San Francisco Financial District.

Find more images like this on Chinese Culture Center Online Gallery
Curatorial Statement
The Chinese Culture Center is proud to present the Xian Rui Artist Excellence Series. Xian Rui (translated from Mandarin as "Fresh and Sharp") exudes the timing, content, and quality of work that the selected artists in this series aim to capture. Regardless of age, gender, and brand of technique, the featured artists' exhibitions will ultimately showcase as both products and reflections of the evolving cross-cultural and transnational culture.
The constant goal for this progressing collection is to discover and acknowledge exceptional solo artists who would otherwise be underrepresented, under recognized, and underappreciated in our art community. Beyond such, the sheer nature of this program will challenge and push the artists, helping them hone their talents and helping us build a foundation for renewed appreciation and fresh perspective on contemporary Chinese art.
Following the overwhelmingly well-received debut of Xian Rui last year with artist Beili Liu (Lure, 2008), we are pleased to continue the series with our 2009 artist, Dora Hsiung and her showcase, Chromatic Construction. Among her fellow applicants' entries, Dora Hsiung's artwork not only emanated the rarely-found meticulous dedication to the fiber art and weaving discipline, but also provided a refreshing take on the art form in such a way that aesthetically and emotionally connects the artist to the viewer.
With such a practiced craft as weaving, artists young and old find great difficulty breaking away from the said and done and interpreting the art form anew. Dora Hsiung's craft indeed does just that. Her three-dimensional artwork, between the waffle technique and an underlying variation of modular origami, utilizes the mathematical approach to construct depth, angle, and shape on the one hand, and borrows from the warmth of subtlety that one can only feel from using such materials as paper and soft yarn on the other.
Her distinct style must have inevitably taken form through her personal experience as a Shanghai-born, Brazil-emigrated, Boston resident. Her sculptures are enriched with the learned Chinese and Japanese weave craft, bold South American use of colors, and pinpoint American precision and industriousness. She brilliantly refines aggressive colors and rugged materials into smooth shapes that still burst with energy and life with a pantone-inspired range of vibrancy. Hsiung is the epitome of a global artist and we are privileged to exhibit her first ever large-scale show in the United States.
Abby Chen, Curator
****************************************
The wall hangings remind us of the colorist silkscreen prints of Viktor Vasarely, but they add the intrigue of the third dimension with its illusions of motion and vibrant gradations. In these pieces, Hsiung uses the basic element of fabric – colored wool yarn – in an original way. Not exactly woven, her strands build and interlock into forms of depth and complexity, combining formality of organization with warmth. She calls the very smallest works "waffle-weave."
Part of the Chinese Culture Center's "Xian Rui" ("fresh sharp") exhibition series, Hsiung's is the first fiber art to appear here. Director Abby Chen states, "Her works embody the diverse experience as a Chinese woman artist who has lived on multiple continents, enriching her vision and perspectives…That her works do not bear the symbols that indicate her ethnicity is what today's Chinese artist is all about."
A native of Shanghai, Hsiung was born Nan-son Lee in 1939. When China succumbed to Communist control, her entrepreneur father moved the family to Hong Kong for five years and then to Brazil. He saw to it that all 10 of the children attended college; Nan-son (now called Dora) received a degree in commercial art and design at the University of Illinois.
For a time after her marriage, Dora Hsiung was a silk-screen printmaker. Experimenting with off-loom weaving, Hsiung modified with wool the traditional Chinese "zong zi" – silk winding over small tetrahedron paper foldings – and also worked with the popular form of the "god's eye" – a weaving formed on a pair of crossed sticks – producing small works that proved popular. She moved on to weaving large tapestries on a 60-inch loom, receiving commissions from corporations who found her work looked high-tech but had a softening effect on their contemporary buildings.
The largest "waffles" she produces are 40×40 inches. For larger installations, Hsiung combines a number of them. She has a double, reinforced wooden stretcher custom-built for each weaving; without reinforcement, her taut stringing would warp the plane of the square. The stretcher remains as part of the work. She has devised an apparatus that holds the frame but enables her to turn it over and over quickly. Each time she changes color she must knot the thread and hide the knot; to achieve her chromic gradations she changes color with almost every strand.
Hsiung has experimented with other shapes and forms: circles, triangles, cubes, tetrahedrons, spheres and huge mock candles. The wall hangings remain her most accessible work. Their infinite variety and consistent aesthetic make it hard to choose among them.
Article by Marty Carlock, Contributing Editor, SCULPTURE MAGAZINE
布料最基本的元素「多彩毛線」變成大膽的創作素材,在藝術家熊李南琛耐心的巧手安排下呈現規律的波動、流動的形狀與色彩。創作經歷超過三十年的熊李南琛用傳統毛線編織技術、精準地呈現溫暖的幾何圖形。舊金山中華文化中心將展出她的五十件尺幅大小不一作品,包括牆掛、裝置和雕塑,許多作品專為此次展覽而創作,並首次得到展出。展覽向公眾開放免費參觀,展期自2009年9月12日至2010年1月10日,9月11日晚上6點舉辦貴賓開幕酒會。
熊李南琛生於上海、移居巴西、現居波士頓,並在波士頓大學獲得碩士學位。項目總監陳暢表示,熊李南琛正是「鮮銳」系列尋找的藝術家,其作品包含華人女性的多種體驗,更因其跨越州際的生活經歷使她具有豐富的遠見及觀點。陳暢強調,熊的藝術靈感源於中國傳統手工藝及當代生活,而她如火純青地纖維編織技法將這些眾多紛雜的多種元素交錯結合。
當熊李南琛開始嘗試用免織機編織時,她參照中國傳統包粽子的手工藝,以絲線包在紙張做成四面體。不同的是她以毛線代替絲線,並將其放大而開始把顏色(彩)和形狀合併成織物雕塑。她很快地發展一種自稱為「威化餅編織」的技術,以線包在木架上,在編織和連結時不斷增加深度及複雜度。她將這些組織成輕微起伏的色彩,目光在顏色和形狀的不斷轉移中產生特殊的視覺效果。雕塑雜誌的特約編輯馬帝‧卡拉克(Marty Carlock)如此形容她的作品:「她的織物雕塑不只是看起來、實質上也是數學結構,就像一個設計良好的合旋,整個作品從一邊到另一邊、從上到下,巧妙地改變其色調和旋律。她有時使用一支不和諧的線,卻有加重整體和諧的作用,作品有循環的無限感和統一的美感。若要從中選擇最好的作品並不容易。」
熊李南琛經常將其「威化餅編織」合併成大型裝置(有些大到四十平方英寸),她也為每件作品製造木頭擔架,此架也成為完成品的一部分,但這只是一個漫長及複雜進程 的開始。她也設計一種儀器來舉起框架,在包線時能很快地把框架翻轉過來。每一次改變顏色時她必須將線打結、然後隱藏線頭,並且幾乎每一鍵她都要改換顏色以完成作品的色級。
中華文化中心展出的熊李南琛的作品形式多樣,有墻掛、雕塑以及裝置。50件作品中的10件是全新亮相,前所未見。
展覽還將安排兩場座談會。藝術家熊李南琛將於9月12日下午2點至3點親臨現場解說職維藝術。而2009年10月的另外一場座談會將邀請斯坦福大學美國亞裔研究中心主任張少書發言。詳情請登陸中華文化中心網站www.c-c-c.org。
中華文化中心行政總監鄧式美說:"像鮮銳這樣的系列展覽是中心為了向多元社區展示和融合當代藝術家而推出的。為了實現我們藝術與公眾結合的承諾,中心特邀斯坦福大學張少書教授來就美國華裔藝術進行一次特別演講。我們希望通過類似的活動激發整個社區更多的探討和參與,促成對不斷演變中的華裔文化新的理解。"
熊李南琛此次將在舊金山中華文化中心展出其代表作及首次公開發表作品。「色‧立體」展自2009年9月12日至2010年1月10日,舊金山中華文化中心位於肯尼街750號(希爾頓飯店三樓),開放時間:週二至週六上午10點至4點,週日中午12點至下午4點。入場免費。詳情請洽:www.c-c-c.org 或電415-986-1822。
「色‧立體」展由位於三藩市金融區的希爾頓酒店協辦。2008-2010年度鮮銳系列展覽由Phylis C. Watfis基金會贊助。同時感謝來自藝術基金、三藩酒店稅收基金、中華文化中心會員及其他個人的支持。
August 22, 2009
Fiber Art Workshop with Dora Hsiung

Fiber Art Workshop with Dora Hsiung.
Date: September 12, 2009
Time: 2pm
Location: 750 Kearny Street, 3rd Floor San Francisco
Admission: Free
Material Fee: $10.00
On September 12, 2009, artist Dora Hsiung welcomed twenty participants to her intimate workshop. For about two hours, Dora shared her skills and experience, and taught adults and children alike the art of wrapping. Here are a few pictures of this amazing workshop: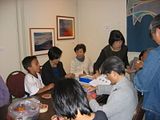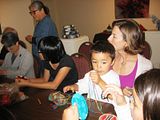 October 22, 2009
Intimate Dinner with Dora Hsiung
Special Event – Intimate Dinner with Dora Hsiung, featuring special cuisine inspired by the artwork and prepared by Chef Ni of Jia Yun. Call for reservation: 415-986-1822 [$100 per person]