Saturday, March 23, 3pm
Chinese Culture Center
750 Kearny St, 3F, San Francisco, CA 94108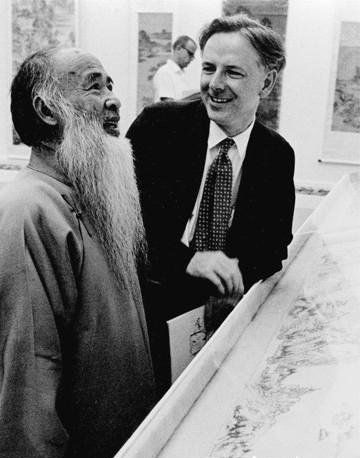 Born in 1916, Michael Sullivan (蘇立文) is the preeminent British art historian who has been a dear friend of Chinese Culture Foundation of San Francisco. He is one of the major pioneers to educate the west on modern Chinese art history and criticism. Traveling from the UK to America at 97 years old and in conjunction with the Moment for Ink Exhibition, Sullivan will be joined by his student Britta Erickson, another highly respected scholar active in Chinese art.
The afternoon will also premiere a rare footage, commissioned by Sullivan about Moment for Ink artist, Chang Dai-Chien in California, filmed in 1960s.

Tickets are required for this one-time only lecture in San Francisco, first come, first served. Capacity 300. 
Sullivan contributed to the Chinese Culture Foundation's catalog, Wu Guanzhong, along with other scholarly literature. The Arts of China, considered to be the most widely comprehensive documentation on the history of Chinese art, discussing more than three millennia of Chinese artistic endeavor.
Sullivan will be joined in the discussion by his student Britta Erickson (林似竹). Erickson is an independent scholar and curator whose work focuses on contemporary Chinese art. She has taught at Stanford University and University of California, Berkeley. Her recent projects include a major exhibition of Chinese art at the Arthur M. Sackler Gallery, Washington and the creation of an award-winning Bibliography of Modern Chinese Art website.
Chang Dai-chien in California is rare footage filmed in the 1960s follows the legendary ink painter in his home in Carmel. The footage which was lost for 3 decades before resurfacing recently allows viewers to gain insight into how the artist paints and selects the subjects for his work.
For more information: visit our Moment for Ink page.
To RSVP: click here
Lecture Schedule:
Part 1: "Chang Dai-chien in California" (Chinatown Premiere)
Part 2: Michael Sullivan discussion, with Britta Erickson
Tickets:
CCC Member: free
General public: $25
—–
Moment for Ink Exhibition: Coloring far outside the lines of traditional ink-wash painting, works by eight equally diverse contemporary artists explode the once-staid genre in the exhibition.
The Moment for Ink Exhibition is on view from now to the month of May 2013
Press Coverage
The Moment for Ink is a group exhibition co-presented and co-organized by CCCArts of the Chinese Culture Foundation and San Francisco State University. This project is supported by California Arts Council,  San Francisco Arts Commission and the Zellerbach Family Fund.