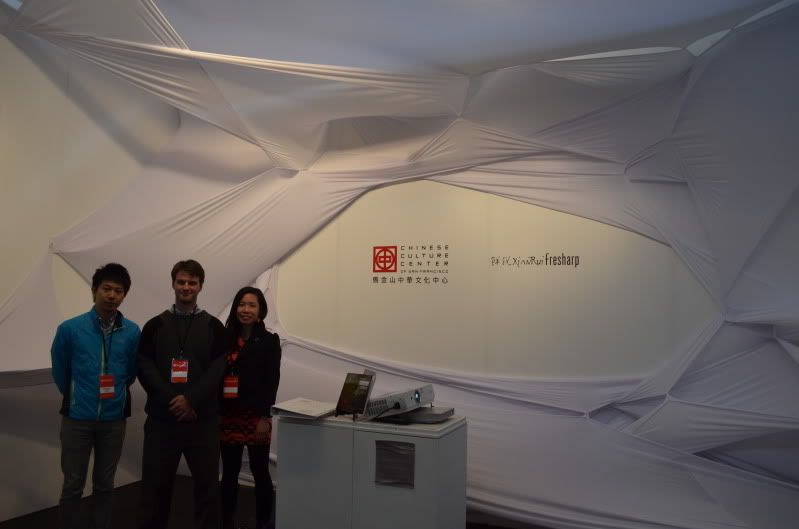 The Chinese Culture Center is pleased to be invited to this years annual San Francisco Fine Art Fair (SFFAF) at Fort Mason Center, running from May 17-20, 2012. This year marks CCC's first participation in and collaboration with the SFFAF.
Returning to Fort Mason for its third year in 2012, SFFAF is one of the highlights in the Bay Area for contemporary art. Last year, 16,500 art enthusiasts lined up and streamed through the fair.
This year, CCC's gallery participates alongside a wide spectrum of hi-caliber fine art with 68 local, national, and international galleries and 24 other exhibiting partners.
As part of "Asian Day" with the Asian Contemporary Art Forum on Saturday, May 19, the CCC also hosted a panel discussion on the "Bay Area as a Hub for Collection, Creation, and Influence of Asian and Asian American Art" with moderator and conceptual artist, Michael Zheng, CCC's Special Projects Manager and saxophonist, Francis Wong, Kearny Street Workshop's Claire Light, and CCC's Jenny Leung.
The CCC booth at A18 featured a special installation and work by XianRui artist, Stella Zhang, and selected work from Young Artist, Mu Xi. The CCC booth was designed in collaboration with Bay Area architects, Esther Tse and Dawn Yim.

Schedule
Wednesday, May 16, 5:30-9pm: Sneak Preview Opening Reception
Thursday, May 17, 11-7pm
Friday, May 18, 11-7pm
Saturday, May 19, 11-7pm
Sunday, May 20, 11-6pm