January 26 – February 27, 1993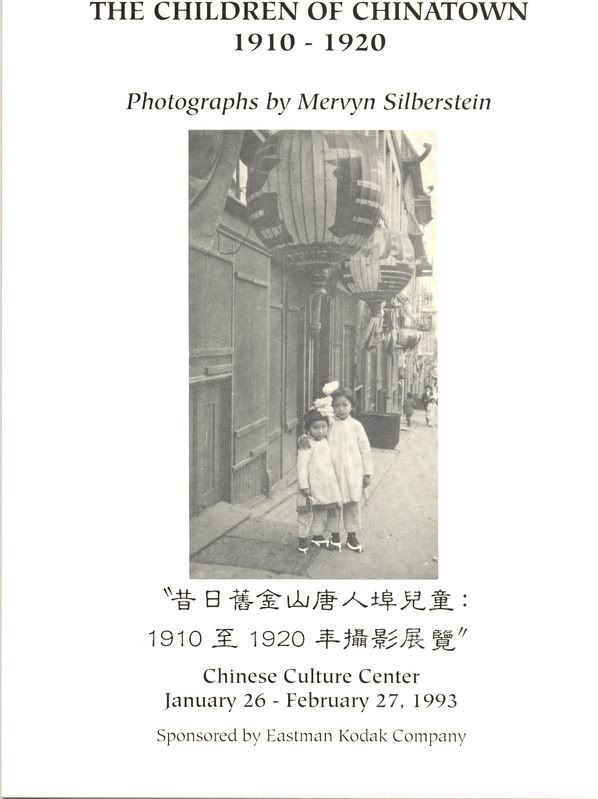 …………………………………………
Born in San Francisco in 1885, Mervyn D. Silberstein
spent his early years in Healdsburg, California, and became
interested in photography while attending Pacific
Union College in Santa Rosa. He returned to San Francisco
in 1910 and worked as a graphic designer and a free lance
photographer. As a member of the California Camera Club,
Silberstein's photographs were exhibited in cities across
the country and many of them appeared on the covers of
national magazines.
Silberstein had a profound interest in Chinese culture
as evidenced by the large amount of photographs he had
taken of San Francisco's Chinatown. These photographs
provide insight into a community that had just begun, in
the early 1900's, the process of westernization and integration,
while maintaining many Chinese customs. Scenes of
merchants, the elderly, and children captivated Silberstein.
He was especially fond of children, and he managed to
capture, as the photographs in this exhibit show, the spirit
and the innocence of the children on Chinatown's streets.
Silberstein's photographs
are invaluable as a record
of a specific period in the
history of the Chinese in
San Francisco.
At the time of his
death in 1957, his entire
collection of photographs
and camera equipment
was left to his only daughter,
Gloria S. Brown, who
hasgenerouslyloanedthe
photographs for this exhibit.
"Children of Chinatown" is the Center's second
cooperation with Ms. Brown; the first was the 1980 exhibition,
"Chinatown, San Francisco: A Photo Journal." The
Chinese Culture Center would also like to express its
gratitude to Eastman Kodak Company for sponsoring the
exhibition.