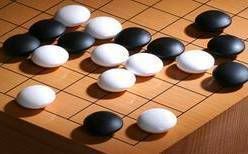 Wei-chi 圍棋 (a board game called Goe in Japan and Baduk in Korea), was invented in China more than 4,000 years ago. Wei-chi is considered by many game experts as the world's greatest strategic skill game, surpassing Chess in complexity and scope.
Wei-chi is not merely a game of strategy, it is also a mental discipline and philosophy that provides several benefits to youth and adults. It can increase concentration, awareness, and patience. More importantly, however, it teaches courtesy, respect, discipline, and self-control. Wei-chi is played with white and black stones, its fundamental principle is the concept of balance and harmony:
The CCC currently offers beginning levels of Wei-chi:
For absolute beginners, or those with very limited Wei-chi background.
Age: 12 Years-old & above
Wei-chi class is scheduled as follows:
Summer Session 2007, from July 19th to September 20th.
Thursdays from
5:15 pm to 6:45 pm
Class taught by Ernest Brown, Ph.D., the President of the American Ing Goe, who have extensive experience in playing and teaching Wei-chi.
Class will be taught in English.
Register for class online.