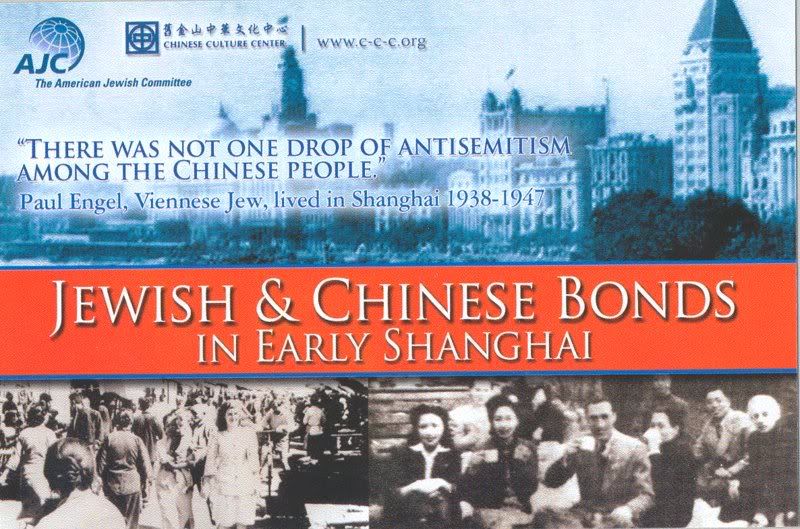 Time: June 2, 2004 (Wednesday) 6 pm
Place: Chinese Culture Center, 750 Kearny St., San Francisco, CA
Price: $12 for AJC, CCC, and/or Judah L. Magnes Museum members and $15 for non-members
Featuring:
Professor Pan Guang
Dean and Professor at the Center for Jewish Studies, Shanghai
Secretary General of the Center for International Studies, Shanghai Municipality
Matook Rahamim Nissim
Personal Reflections of a Former Jewish Resident of Shanghai
From the middle of the 19th Century, Shanghai served as a hub for Jewish immigration to China. By the end of the 1930s, as Europe became increasingly Nazi Europe, Sephardic Jews, Russian Jews and European Jewish refugees in Shanghai amounted to over thirty thousand, forming the largest Jewish community in the Far East. The community had its own communal association, synagogues, schools, hospitals, clubs, cemeteries, chamber of commerce, publications, and active political groups, especially Zionist parties.
Sephardic Jews immigrated to the city from British-ruled areas like Baghdad, Bombay and Hong Kong as early as the second half of the last century. After entering Shanghai, they soon demonstrated their trading capability and had very successful businesses. Among them, several notable families like the Sassoons, the Hardoons, and the Kadoories became economically strong in Shanghai and even across China. Close ties with international corporations and the financial centers of New York and London enabled the Shanghai Jewish community to support a wide range of political and cultural activities. Russian Jews came to make a living in Shanghai via Siberia and Harbin after the revolutions in Russian at the beginning of the 20th century. Most of them arrived in Shanghai with hardly any money and struggled to open some small business.
As time went by, through their own endeavor, a number of Russian Jews became middle class, and with their ever-increasing number, far more than the Sephardic Jews, they
were soon beginning to play an active role in the social life of Shanghai. From 1933 to 1941, Shanghai accepted over thirty thousands Jewish refugees from Europe. Excluding
those who left Shanghai for other countries, the city contained a total of 25,000 Jewish refugees as the Pacific War erupted. Shanghai accepted more Jewish refugees than those taken in by Canada, Australia, New Zealand, South Africa and India combined. All the teachers and students of Mir Yeshiva, a famous Yeshiva in Europe, some 400 in number, miraculously survived the Holocaust and continued their studies in Shanghai throughout the war.
The Nazis and their accessories not only killed six million Jews in Europe but also posed serious threats against Jewish communities outside Europe, including the Jewish community in Shanghai. In July 1942, eight months after the Pacific War broke out, Colonel Josef Meisinger, chief representative of the Nazi Gestapo to Japan, arrived in Shanghai and put forward the plan "Final Solution in Shanghai" to Japanese authorities. The Japanese authorities subsequently proclaimed "The Designated Area for Stateless
Refugees," a Jewish ghetto, and ordered the refugees who had arrived in Shanghai from Europe since 1937 to move into the area within a month. Pressure from Nazi Germany
and the caprice of Japan's policy put the Shanghai Jews in difficult, unpredictable, and sometimes dangerous straits for nearly four years. But, at last, almost all Shanghai Jews
survived the Holocaust and war, as they were able to depend upon their own mutual aid and great support from American Jews and, especially, the Chinese people.
There was great mutual respect, sympathy and support between Shanghai Jews and Chinese people. Both the Chinese and Jewish nations recognized each other's rich contributions to the civilization of the world throughout history. But perhaps more importantly, the two peoples felt great empathy with each other's profound suffering. Over 35 million Chinese were killed and wounded by Japanese fascists during wartime. This same experience gave Chinese people deep respect and sympathy for Jewish people. Soon after Hitler's anti-Semitic campaign started, Madame Sun Yat-sen (Ms. Song
Qingling) headed a delegation to meet with the German Consul in Shanghai, and lodged strong protests against Nazi atrocities. Her delegation included all the important leaders
of The China League for Civil Rights including Dr. Cai Yuan-pei, Mr. Lo Shun, and Dr. Lin Yu. Likewise, Shanghai Jews also gave strong support to the Chinese resistance against Japanese imperialist aggression. The well-known "Double Guns" Morris Cohen, was a faithful bodyguard of Mr. Sun Yat-sen. Dr. Jacob Rosenfeld came to Shanghai from Austria as a refugee in 1939 and left Shanghai to join the anti- Japanese war in 1941. He served as the Commander of the Medical Corps in the Chinese Army. Today, Shanghai Jews and their descendants are living in all parts of the world; though many still regard Shanghai as their "home city."