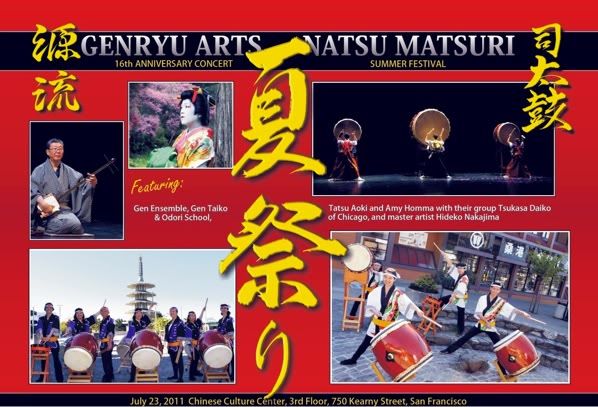 The CCC is excited to announce that we will be hosting Genryu Arts for their 16th Anniversary on July 23 at 6pm. Held in the CCC Auditorium, the Natsu Matsuri celebration will include cultural performances celebrating the Summer Festival.
The evening marks the first collaboration between the CCC and Genryu Arts, one of San Francisco's premier taiko performance groups. Led by Bay Area dancer and taiko performer Melody Takata, Genryu's annual Natsu Matsuri program is presented in partnership with Asian Improv aRts, JCCCNC, and the Chinese Culture Center. The show features the Gen Ensemble, Gen Taiko and Odori School, Tatsu Aoki and Amy Homma with Tsukasa Daiko of Chicago, and master artist Hideko Nakajima.
Don't miss this fun, family friendly event!
See GenRyu Arts headlining performer Melody Takata in action
Learn More about Genryu Arts here
Buy your tickets in advance here