Chinese Culture Center of San Francisco
750 Kearny Street, Third Floor
San Francisco, CA 94108-1809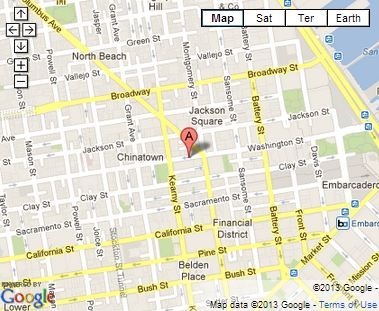 View Larger Map
Phone: 415.986.1822
Fax: 415.986.2825
Web: http://c-c-c.org
Email: info@c-c-c.org
Staff Directory
Admission:
$5 Suggested Donation
Hours:
CCC Visual Art Center & Shop: Tuesday-Saturday 10am-4pm*
CCC Administrative Offices: Tuesday-Friday 9:30am-6pm; Saturday 10am-4pm
Holiday Closures – Our offices, gallery, and shop will be closed in observance of the following holidays:
2016
New Year's Day (January 1)
Martin Luther King Day (January 19)
Presidents' Day (February 16)
Memorial Day (May 31)
Independence Day (July 4)
Labor Day (September 6)
Indigenous People's Day (October 111)
Veterans Day (November 12)
Thanksgiving (November 24-28)
Christmas Day (December 23-24)
The Center may be open at other times for classes or events
*Gallery Opening Subject to Current Exhibition: our gallery is open during current exhibitions. We close during installation and taking down a previous exhibition. Please check the front page for current exhibition dates.
The shop will be opened during installation periods, except during the following closures:
December 9, 2017-February 11, 2017 for end of year inventory and renovation.
Location:
The Chinese Culture Center is located inside the Hilton San Francisco Financial District.
The CCC Visual Art Center and CCC Auditorium are on level 3
The CCC Offices and Community Rooms are on level 3 Mezzanine.
Only one of four elevators from the ground floor meets Level 3 Mezzanine. Visitors can reach Level 3M from the 3rd floor by taking the stairs, which are located to the right of the elevators in the foyer. Please note that the 3rd floor space is shared and occasionally in use by CCC partners and other members of the the the community-look for our CCC wayfinding signs to direct you toward CCC Visual Art Center and offices.
Directions:
BART: Get off at Montgomery Street Bart Station and walk 7 blocks on Kearny Street (take One Post Plaza, turn left on Post, right on Kearny)
Muni: Numerous bus lines service our neighborhood. The 1 California and 8 Bayshore buses arrive at Clay & Kearny Street, one block from the center.
Parking:
Parking garages nearby include Portsmouth Square Garage across from the Center and St. Mary's Garage, also on Kearny Street.
Special weekend offer at Golden Gateway Garage, 250 Clay St.
For more info, please visit: Chinatown Park and Ride
$3 all day parking with validation at CCC Gallery
Free shuttle ride to and from Chinatown from Golden Gateway Garage