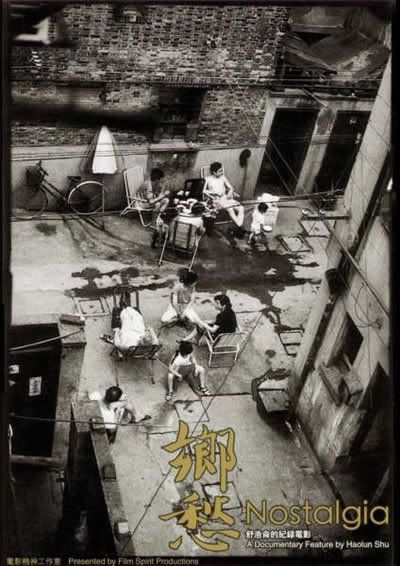 Nostalgia 乡愁
Shanghai is filmmaker Haolun Shu's hometown, where he also lives and works now. His family has an old house in Da Zhongli, one of Shanghai's oldest neighborhoods. Shus had lived there for three generations including him. Now his grandma still lives alone at their old house in Da Zhongli. A bad news comes to him that Da Zhongli faces a new round of so-called "Urban Reconstruction", which means that the whole neighborhood is going to be completely demolished. Then he decides to go back there with camera.
So this is a documentary about Haolun Shu's revisit to the modest, warm Da Zhongli that has not been yet bulldozed to make way for gleaming skyscrapers, intertwined with his memory of the innocent 1980s in which he had spent living there, and the Shanghai that hadn't yet become a modern cosmopolitan city full of skyscrapers.
Directed by Haolun Shu; 70 mins; 2006; English Subtitles
Check out the NPR review of this film, "NPR Report on Haolun Shu's Doucmentary NOSTALGIA: A Cinematic Ode to Shanghai's Vanishing world", by Louisa Lim.
舒浩仑《乡愁》* 70 mins, 2006 (Nostalgia)
舒浩仑的《乡愁》是一部关于上海的私人影像记忆,记录了一个将要拆迁的静安区石库门里弄大中里的当下和往昔,片中出现的人物都是和导演生活记忆息息相关的亲人和邻居,舒浩仑导演以平实的心态记录了作为宁波移民的祖孙三代在这个城市变迁过程里经历的一切,在这些耄耋老人的回忆里我们甚至可以感到我们自己的童年,这部记录片告诉了我们一个方法论,怎样在一个小的题材里反映城市的历史、文化和人文境遇 – 摘自卡夫卡•陆的影评
The film's synopsis:
Winner of the Reel China 2006 Best Documentary Award, Shu Haolun's Nostalgia is a breakthrough film about the transformation of Shanghai's urban environment. When Shu hears that the neighbourhood of traditional shikumen housing he grew up in is slated for demolition, Shu takes his DV camera back home. Moving between chats with grandma, walks through the old alleyways, and re-enactments of his childhood, the result is an entertaining but pointed and poignant diary about the heavy price to be paid for urban development.
The Remark from the jury of 3rd (2006)Reel China Documentary Biennial:
The outstanding ambitious essay documentary film combines the diary form with interview and reenactments to bring the personal experience into the broader social issues through a unique way… It powerfully tells the tension between various factors in the process of society development.
The slow pace of the documentary turns out to be the artist's strategy for capturing the rhythm of passing time. The use of black-and-white reenactment scenes on his old memories is quite effective, and so is the of 1980s' music.
"It is not just a personal history, but also a critical look at social values. Who actually 'owns' this neighborhood? The residents? And who defines what is 'best ' for the neighborhood, and for those who live there? These are important questions, and not just in China. This film raises questions that not only China – or, more accurately Shanghai – faces, but also questions that apply to cities around the world."
故事梗概:
第三届Reel China当代中国纪录片双年展的最佳纪录片奖。舒浩仑的《乡愁》是一部关于上海的私人影像记忆,记录了一个将要拆迁的静安区石库门里弄大中里的当下和往昔,片中出现的人物都是和导演生活记忆息息相关的亲人和邻居,舒浩仑导演以平实的心态记录了作为宁波移民的祖孙三代在这个城市变迁过程里经历的一切,在这些耄耋老人的回忆里我们甚至可以感到我们自己的童年,这部记录片告诉了我们一个方法论,怎样在一个小的题材里反映城市的历史、文化和人文境遇(摘自卡夫卡 •陆的影评)
第三届Reel China当代中国纪录片双年展评委会评语:
作为一部出类拔萃而又有雄心抱负的散文式纪录片,此片结合了日记体裁、采访和再现,以别具风格的形式同时呈现了个人心灵和社会问题……它有力地传达了一个社会变迁过程中各种因素间的复杂关系、冲突与平衡。此片的慢节奏有效传达了时光流逝的节奏。黑白色调的再现部分使得旧时记忆愈发戏剧化,运用从前的音乐歌曲也有同样效果。这不仅仅是个人史,也是对社会价值的一次审视。究竟谁'拥有'这片邻里?这里的居民吗?谁来决定对于这个居民区和这里的人们来说,什么是'最好的'?这些不仅仅是中国面临的问题。这部纪录片毫无疑问反映了中国社会——或更精确一点说,反映了上海——但它提出的问题是世界各地的城市都在面临的。
Go back to C4 Schedule
回到華劇院