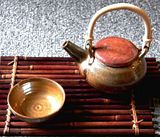 Date: Sunday, October 18, 2009
Time: 2:00 pm
Admission: FREE
Location: Chinese Culture Center Auditorium,
750 Kearny Street, 3rd Floor
San Francisco, CA 94108
Held in conjunction with our tea exhibition with United Commercial Bank at the Pacific Heritage Museum, this tea ceremony will bring in a different atmosphere through drinking tea. From learning to appreciate the tea cups, smelling the tea's fragrance to tasting the tea. Like Chinese art, it combines different disciplines. In the old literati tradition, people would gather together to recite poetry, play music, and brew tea. 12 bilingual Tea Masters will present the art of tea with Guzheng and Guqin background music played by SF Gu-Zheng Music Society. Teas will include Bao-Chung cha (made by North American Asian Art & Culture Association members) and Da-Hung-Paw. Spots are limited to 96 guests! RSVP online today!

日期: 2009年10月18日
時間: 下午2點
票價: 免費
地點: 文化中心3樓礼堂
"茶道" 是中華文化中心舉辦的品茶活動,與聯合銀行贊助的太平洋傳統博物館茶藝特展相互結合。 你會從飲茶中感覺不同的氣氛和聞到茶的香氣,如同形式多樣的中國藝術。 在傳統文化習俗里,人們在一起吟詩、品樂和泡茶。 12位雙語茶道師父將在舊金山古箏樂團古箏和古琴背景音樂中演繹茶道。 今次品茶活動用茶有北美藝文學會茶人自制的包種茶和大紅袍。 限96個席位,報名請從速!