September 3 – October 29, 1995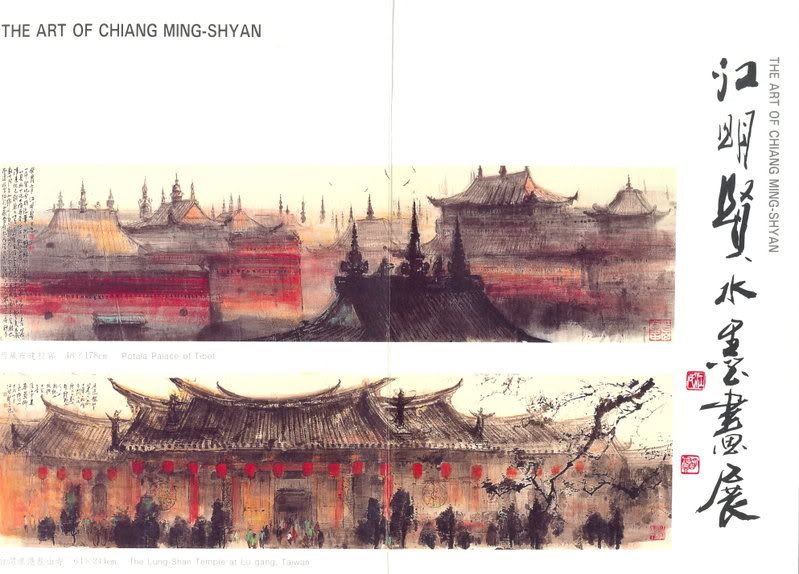 Chiang Ming-shyan was born in 1942 in Taichung County, Taiwan, and graduated from the Department of Fine Arts of the National Taiwan Normal University in 1968. To further his studies, he attended La Escuela Superior de Bellas Artes de San Fernando. After obtaining a M.A. degree in 1974, Chiang traveled throughout Europe visiting museums and art galleries. He has participated in many group exhibitions and also held one-man shows in Taiwan, Hong Kong, the People's Republic of China, Japan,
New York, and Spain.
The guiding principle in Chiang's creative process is the Confucian Doctrine of the Mean, and the way Chiang applies this principle into his art is by maintaining a middle path–a balance between realism and abstraction. The traditional elements of Chinese ink painting, such as bird's-eye view, ink washes for misty areas, and splashes in the xie-yi manner are present in his works. He adds his personal style which is characterized by sharp, straight brushstrokes to build up solidity to the forms. The
brush is dry except when he wants to create strong contrast, and color is used in a similar manner as in western watercolor. Chiang Ming-shyan has established himself among Chinese artists today by creating a distinct style without sacrificing elements of Chinese traditional painting.
The Chinese Culture Center of San Francisco thanks the Information Division of the Taipei Economic and Cultural Office in San Francisco for their assistance and support of this exhibition. Funding for this project was provided in part by the National Endowment for the Arts, the California Arts Council, and the San Francisco Publicity and Advertising Fund's Hotel Tax/Grants for the Arts program. To Mr.
Chiang Ming-shyan, we would like to express our gratitude for the loan of the paintings in this exhibition.