January 28 – April 8, 1995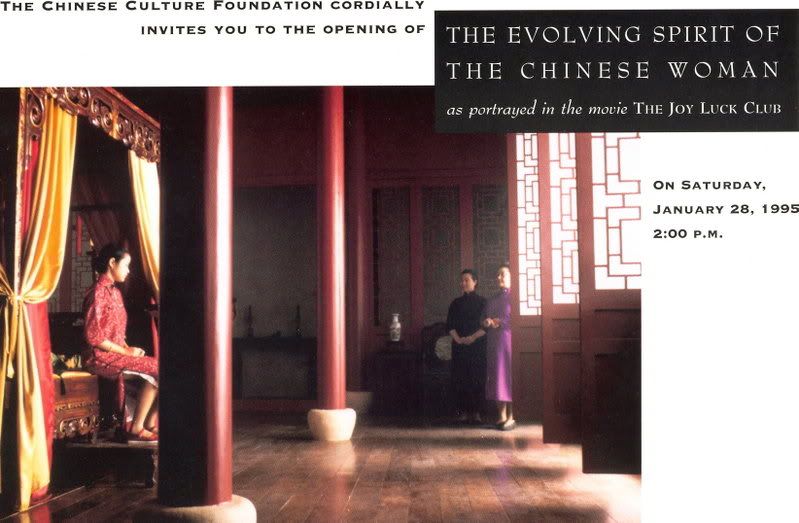 The Chinese Culture Center of San Francisco is pleased to present this exhibition displaying objects used in the movie The Joy Luck Club curated by Sandra L. Fu Chin, who served as a consultant for the film. The purpose in showcasing some of the pieces from the movie's sets is to demonstrate the impact civil war and foreign invasion have had upon traditional roles and values in China. These objects manifest the changes upon specific cultural and aesthetic norms which found their expression in basic forms such as clothing and home furnishings. A walk through these sets and costumes provides an opportunity to examine many facets of the society and culture of a period when China's traditions were grappling with modern and progressive ideas.
The pre-World War II era marks a period of changes in Chinese cultural history. With the influx of Westerners and new ideologies, old orders based on social hierarchy and Confucian virtues began to crumble and society's restriction on women began to collapse as well. Many intellectuals and progressive scholars attacked the subordinate and restrictive status of women in the Confucian family as a major cause of China's weakness.
It is during this period that women were able to gain more freedom and status as citizens. Footbinding was abolished; women demanded the same civil rights and legal protection as men; women's rights associations sprang up. As a labor force, Chinese women working in the light industries were effective in exerting political impact through strikes in Japanese owned factories. Departing from the traditional
family system, thousands of women who worked in factories or held jobs often joined mutual aid organizations called sisterhood societies (Jiemei hui).
An example of the changing cultural expression during the pre-World War II era is clothing. The Qi Paa (chang-san), a popular form of clothing in modern times, originated as a straight and loose costume. By the 1930's however, influenced by the West, it underwent a dramatic change in style. It became tight fitting especially around the waist and the side slits became higher, giving a revealing glimpse of the legs. The dress was often sleeveless and the female body was clearly articulated. A woman wearing a Qi Paa most likely had natural, unbound feet, and wore European-style high heeled shoes. Against the "indecent attire" objections of their elders, women wore tight-fitting Qi Paas. The adoption of various Western fashion elements and the popularity of this new style Qi Paa alluded to a deeper, widespread belief that in order to strengthen a weak Confucian-based tradition, the country needed to accept modern Western idioms, including the re-evaluation of the family system and greater freedom for women.
With some scrutiny, the personal possessions in this exhibition offer evidence of an emerging resistance on the part of women to patriarchal and generational norms and traditions. The increasing social and political turmoil allowed room for more progressive attitudes, generating an evolution of new forms of expression in women's most personal sphere, from adornment to home furnishings. It is these very forms which allowed the incorporation and accommodation of the "new" within generations of Chinese traditions and values.
Guest curator Sandra L. Fu Chin teaches Asian Art History at the Dominican College in San Rafael.
This exhibition is sponsored in part by funds from the National Endowment for the Arts, a federal agency, and the Publicity and Advertising Fund of Grants for the Arts