A Panel Discussion with Albert Cheng, Nicole Mones, Alex Ong and Martin Yan; moderated by Olivia Wu
Co-sponsored by the Asia Society and the Chinese Culture Center
Wednesday, January 23, 6:00 pm | Chinese Culture Center
View writing's by "Cooking with Amy" about this event.
KQED's food blog about this event and some of the dishes mentioned at the discussion.
出席人員: 鄭國和, Nicole Mones, Alex Ong,甄文達 論壇主持人:Olivia Wu
本活動由亞洲協會和中華文化中心聯合贊助 論壇活動將於1月23日星期三下午6點文化中心3樓舉行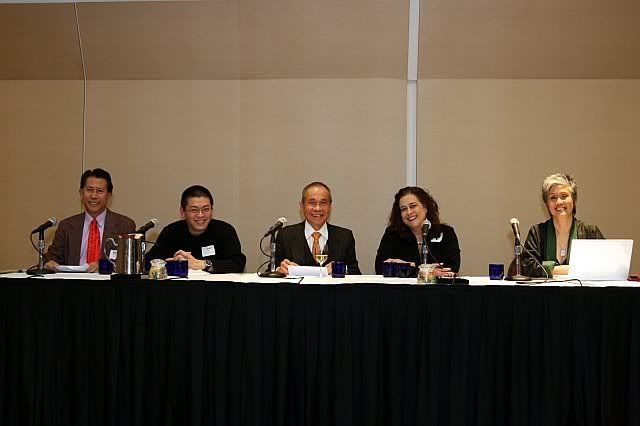 The Future of Chinese Cuisine in the U.S.
Why is it so difficult to find great Chinese food in America? The question is especially vexing when one looks at the culinary renaissance taking place in China itself. Is the problem visa difficulties for Chinese chefs, as Nina and Tim Zagat recently argued?
Is it the ingredients? Or is the issue (as Nicole Mones has claimed) more fundamental: a disconnect between what talented Chinese chefs can cook and what Americans, raised on chop suey and sweet and sour pork, actually expect?
Or, is there great Chinese food already in America, just waiting to be discovered and celebrated?
This program will look at the changing face of Chinese food in China, as well as in places like Vancouver, Flushing, and the San Gabriel Valley in Southern California. We'll also discuss some of the bright spots and local trends in the Bay Area Chinese restaurant scene.
Speakers:
Albert Cheng was President of the Chinese Culture Center for three terms. An educator for more than thirty years, he is also the co-founder of the Center's In Search of Roots program, which helps young Chinese-Americans discover their roots and identity.
Nicole Mones is the author of three novels, Lost in Translation, A Cup of Light, and most recently The Last Chinese Chef. Her books have won numerous awards and are in print in seventeen languages. Since 1999, Mones has also written about Chinese food for Gourmet magazine.
Alex Ong is a partner and executive chef of Betelnut. In the restaurant's opening year, it was one of five nominees for the James Beard Foundation's Best New Restaurant Award and voted "Hottest New Restaurant" by the San Francisco Chronicle.
Olivia Wu is an aaward-winning staff writer for the San Francisco Chronicle Food and Wine sections. She has been writing about food since the 1980s, when she was a food editor, restaurant critic and nutrition writer at the Chicago dailies. She has also worked as a professional cook and is the author of two books. The Grand Wok Cookbook and Turning 50: Fifty Personal Celebrations.
Martin Yan is the celebrated host of over 2,000 cooking shows broadcast world-wide. He is a certified Master Chef, a highly respected food consultant, and a cooking instructor. Yan is also a celebrated writer and has written 26 cookbooks, including the award-winning Martin Yan's Feast, Martin Yan's Asian Favorites, Chinese Cooking for Dummies, Martin Yan's Chinatown Cooking, and his latest, Martin Yan's Quick & Easy.
近來,中國已佔了新聞報導不少的篇幅.然而中華美食在美國的未來走向卻讓人臆測.是移民?是食材?或如Nicole Mones 近日在紐約時報中提及是美國主流食客和優秀的中國廚師之間的問題使得中華美食聲譽走下坡?在中國,地道的美食越是受到大眾的關注,然而這熱情會沿續發燒下去嗎?或者正等待著伯樂讓它在國際間大放異彩呢?
若您熱愛中華美食,千萬不可錯過此次精彩的論壇活動.
中華文化中心歡迎大家踴躍報名參加.
Chinese Culture Center, 750 Kearny St, 3rd Floor (Chinatown Hilton)
Co-sponsored by: