May 19, 2011
XianRui 2011: Zheng Chongbin's "White Ink"
This year the CCC's XianRui (Fresharp) series features the work of abstract ink painter Zheng Chongbin.  The highly anticipated show is comprised of fifteen new and site-specific large scale pieces, which include both paintings and video projections.
Zheng's work has been hailed as 'unprecedented,' and embodies the essence of traditional Chinese ink painting as well as the physicality of western abstract traditions. His work conveys both movement and serenity, making the experience of them at once timeless and dynamic.
From Curator Abby Chen:
To say traditional ink painting is Zheng's home of craft and artistry is no exaggeration. The dislocation from China to the U.S. was a catalyst of his transformation, and the choice he made to go into different genre was an intentional and a conscious one. The willingness and the ability to disengage from the familiarity, and to reconnect back to the root culture after the odyssey, have positioned Zheng as an instrument of cultural translation, which in itself has taken both cultures further to a new present. The presence of ink in these paintings almost resembles the identity of the painter himself and his methodology: in the early works, it has to be loud, direct, and raw; then it mixes, fades, and disappears. It feels to me that he initially needed to forcefully, almost recklessly, dash out in order to rebel and break free, and later subtly, gently, and even secretly pan out, infiltrate, and dominate. What Zheng has managed to achieve from this process is evident and crucial to his artistic development, as well as to the actual practice of what it means to be a Chinese artist in America. White Ink presents a visual overlap, which allows for receiving both forms, without a prior knowledge of one or the other. The energy flow Zheng generates with this exhibition actualizes a process of transformation that denotes Xian Rui's founding goal: to offer a fresh and sharp perspective that provides new possibilities of thinking about not just Chinese culture, but culture at large, through the lens of an individual artist.
如果說傳統水墨畫是鄭重賓藝術生命的家鄉也毫不誇張。從中國到美國的遷徙是他發生蛻變的催化劑,而嘗試不同的藝術類型體現了他主觀的藝術行為。他有意願亦有能力與過去的既定框架進行分離,又在"遠行"之後回歸本源,這種經歷讓他具有更加深入的文化詮釋能力,為兩種文化帶來新的表現形式。其水墨的藝術表達揭示的是畫家對自身認識和繪畫方式的轉變:早期的作品如吶喊,直接,毫不掩飾;後期則混沌,淡然,甚至消失不見。他最初以強烈甚至略顯魯莽的方式擺脫束縛和尋求自由,而後以微妙,溫和甚至隱秘的方式回歸,滲透和駕馭。這種變化對鄭重賓的藝術昇華至關重要,因為它恰恰印證了一位華人藝術家在美國的蛻變過程。 《白墨/White Ink》從視覺上展現兩種風格的重疊,讓觀者在無須精通任何一種形式的前提下,同時感知和體驗水墨和抽象藝術。鄭重賓在本次展覽上所營造出的氛圍和展現出的創新詮釋了成立鮮銳(Xian Rui)年度項目的初衷:鮮活元素和犀利視角的藝術化呈現,通過藝術家個人的視野為中華文化乃至更廣闊領域的文化提供新的可能性。
White Ink is on view Tuesdays – Saturdays 10 a.m. – 4 p.m. at the Chinese Culture Center, 750 Kearny St., 3rd Floor (inside the Hilton Hotel). Admission to the gallery is free.
From June 18- July 17, White Ink will also be on display at the Silicon Valley Asian Art Center in Santa Clara.
Copies of the White Ink Catalog will be on sale in the CCC gallery.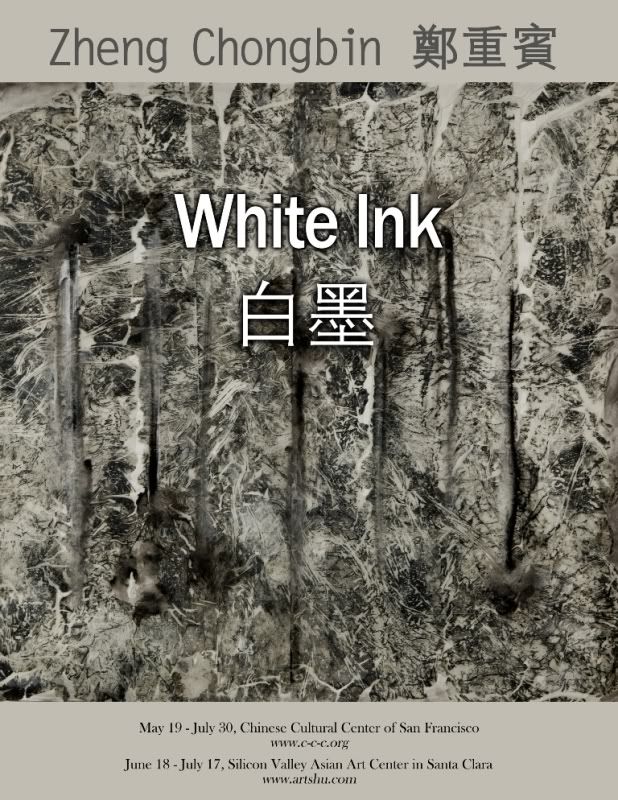 Read reviews of White Ink and artist Zheng Chongbin (click on logos for articles)
Jul 22, 2011
CCC's XianRui 2011 Featured in Yishu Magazine
We are thrilled to announce that the CCC's XianRui 2011 show, Zheng Chongbin's White Ink, is featured in Yishu magazine's July/August 2011 issue. Yishu is a leading international publication focused on contemporary Chinese arts, and this is the first time that CCC and XianRui have been highlighted in the journal.
Zheng Chongbin is noted as a leader in the contemporary Chinese ink painting movement, and White Ink is a groundbreaking example of his leading the field in moving the tradition forward into a contemporary light.
恭喜舊金山中華文化中心的鮮銳展覽和2011年度鮮銳藝術家鄭重賓。一本雜誌中有三篇專題報導是一個令人振奮的好消息!在《藝術》的7月刊中 ,白墨作為當代水墨的重要展覽被該雜誌報導,標誌著舊金山中華文化中心與在國際上享有盛名的中國當代英文藝術刊物的第一次開創性合作。振奮之餘,中華文化中心採訪了鄭重賓,藉此機會了解他對於此次合作的感想。
Reflecting on this achievement, CCC interviewed Zheng Chongbin to gain insight on the impact of this new partnership.
CCC: What role do you think a program like Xian Rui, which features the work of innovative and under recognized artists of Chinese descent in America, provides in the global discourse on contemporary Chinese art?

ZCB: I think it expands the discourse  beyond the context of Chinese art. Xianrui identifies the artist who is living in a world of placelessness, who is a critical link between the past and present time in their living reality, and with the medium which they chose to provoke.

CCC: It is a first time honor that CCC is featured in Yishu. How do you think grassroots institutions can contribute something unique to larger conversations led by publications like Yishu?

ZCB: I think the platform doesn't depend on the status. The program really has to raise a critical voice in the contemporary culture and engage with the community locally and globally. Thinking big leads to the best potential.  Xianrui will contribute to defining the area of contemporary art . It provides the opportunity to have dialogue with other institutions in the field, and it has tremendous impact upon the artists who participate in the program.

CCC: All XianRui artists are of Chinese descent, and work produced through collaboration with CCC speaks to a unique experience in America in an effort to address gaps in American understanding of Chinese Art. Does having institutional support change the context of the artwork?

ZCB: I think it institutional support absolutely has an effect. Artists that  collaborate with CCC have the chance to challenge the narrowness of the system culturally and socially.  It gives the artist a springboard for further artistic investigation.
舊金山中華文化中心:你認為"鮮銳" 這樣的展覽能起到哪些作用?那些未被主流社會認可的在美華人藝術家和他們的創作有什麼特色?
鄭重賓:我認為此次舊金山中華文化中心與《藝術》雜誌的合作開拓和擴展了世界對於華人藝術的新思潮。 "鮮銳" 展覽系列肯定了那些處於文化邊緣的藝術家,並支持他們通過對於媒介的顛覆,化身為連接過去與現在重要的紐帶。
舊金山中華文化中心:這是舊金山中華文化中心第一次榮登《藝術》雜誌。通過像《藝術》此類知名英文雜誌的報導,你認為草根機​​構能夠做出什麼更獨特的貢獻?
鄭重賓:我不認為一個平台在於它地位的高低,其關鍵在於能否讓當代藝術發出批判性的聲音,同時滲透本土及全球的社區。一定要敢於想像才能發揮出最大潛能。"鮮銳" 將在定義當代藝術方面做出貢獻,它提供了與這個領域其它機構交流的機會,也對參與此項目的藝術家們產生了極大的影響。
舊金山中華文化中心:所有鮮銳藝術家都有華人背景,通過與舊金山中華中心的合作,創造獨特的在美經歷的作品,努力填補美國主流對華人藝術理解上的鴻溝。機構的支持能改變這些藝術作品的處境嗎?
鄭重賓:我認為機構的支持當然是有影響的。與舊金山中華文化中心的合作,讓藝術家們有機會去挑戰社會文化體系的狹隘,為藝術家們更深度地探究藝術提供了一個跳板。
Aug 9, 2011
Xian Rui 2011 Extended through September 3
Due to popular demand, the CCC is extending the tenure of Zheng Chongbin's White Ink in the CCC Gallery. This 2011 installment of CCC's Xian Rui Artists Series has received rave reviews and initiated unprecedented momentum for this partnership between center and artist. Don't miss this groundbreaking show!
What critics are saying about White Ink:
"The paintings… make you think about the continuing march of abstract painting, and the rising power of bicultural artists like Zheng who combine and transcend disparate traditions." –Tamara Straus, San Francisco Chronicle
"He has invented a style that has been hailed as "unprecedented." –Paul Liberatore, Marin Independent Journal
"The flowing forms… invite the viewer's imagination to wander into and through them." –Mark Van Proyen, Art in America
"He manages to create a supernatural atmosphere on the paper as if it is framed by nature or spirit." –Abby Chen
"San Francisco-based Zheng Chongbin … turns the Chinese ink aesthetic on its head with bold, visceral abstract paintings." –Christopher DeWolf, CNN
"His paintings push the possibilities of ink as a medium while at the same time challenging the boundaries of abstract painting." – Dr. Shen Kuiyi, Yishu Journal, July/August 2011
"Zheng's works mingle the past and present, granting glimpses of realities studied, seen and envisioned that burn brilliantly with poetry, poignancy, and power."
–Collette Chattopadhyay, Yishu Journal, July/August 2011
Aug 19, 2011
Art Practical rates White Ink as a top show of 2011
Art Practical's Zachary Royer Scholz calls CCC's Xian Rui 2011 exhibition White Ink the "Best Exhibition you Likely Never Saw" in Art Practical's Best of 2011 column. Says Royer:
the Chinese Cultural Center (CCC) may be a bit off the radar for many art viewers, but Zheng Chongbin's exhibition White Ink was more than worth a visit. Drawing equally from Western abstraction and calligraphic tradition, Zheng's visceral ink paintings paradoxically were both fresh and ancient. Though made on traditional Xuan calligraphic paper, the works possess a blunt structural power similar to the work of Franz Kline, an emotional weight reminiscent of Anselm Kiefer, and a gestural embodiment that calls to mind the performative drawings of San Francisco's own Tom Marioni.
By popular demand, White Ink has been extended until September 3
CCC Gallery Hours are Tuesday through Saturday, 10AM-4PM.